Adele Ciramati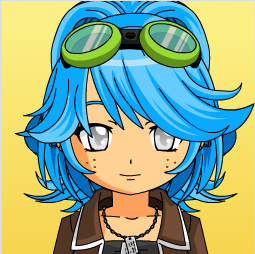 Character Info

Edit
Adele's so-called "Pilot Girl" career started when her father took her in a helicopter at 4 years old. Since that faithful day, Adele has believed to have found her destiny as a pilot.
Adele also has an extremely large crush on Raphael, yet he doesn't have the same feelings for her.
Character Profile
Edit
Birthday: July 1st
Ethnicity: ?
Body Type: Average
Height: 5' 7"
Hair Color: Light Blue
Eye Color: Light Grey
Skin Tone: Tan
Dominant Hand: She can write with both
Favorites
Edit
Interests/Hobbies: Reading up about planes, watching TV, and playing the occasion game of netball
Favorite Color: Light green
Favorite Musician/Band: Jessie J
Favorite Type of Music: Techno
Favorite Food: Fish and Chips
Favorite TV Show: Eastenders
Favorite Book: The Secrets of The Beyond
Favorite Movie: The Woman in Black
Report Card
Edit
English: C+
Math: A+
History: C+
Science: A+
Computers: C
Gym: C
Art: C-
Music: C-
Cooking: C
Drama: C+
Health: C
Other Appearances
Edit
Adele, for some reason, hates her name.
Adele's hair colour is - somehow - natural.
Adele is a very skilled netball player, all the matches she was in she has won.
Ad blocker interference detected!
Wikia is a free-to-use site that makes money from advertising. We have a modified experience for viewers using ad blockers

Wikia is not accessible if you've made further modifications. Remove the custom ad blocker rule(s) and the page will load as expected.