Adrian Lobos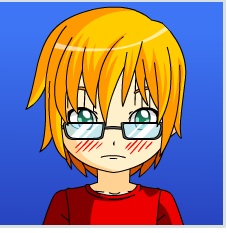 Character Info

Edit
Adrian Lobos is a shy student in the new Millard High RP. He tends to stutter. He has amazing artistic and creative talents but he's too shy for anyone to notice.
Character Profile
Edit
Birthday: January 1
Ethnicity: Swedish, French, Italian, Russian, Polish, British.
Body Type: Scrawny
Height: 5'2"
Hair Color: Blond
Eye Color: Green
Skin Tone: Pale
Dominant Hand: Both
Favorites
Edit
Interests/Hobbies: Reading, Being shy, Writing, art, stuttering
Favorite Color: Yellow
Favorite Musician/Band: Katy Perry
Favorite Type of Music: Pop
Favorite Food: N/A
Favorite TV Show: Modern Family
Favorite Book: The Graveyard Book
Favorite Movie: Pitch Perfect
Report Card
Edit
English: A
Math: A-
History: B+
Science: A-
Computers: A
Gym: A
Art: A+
Music: A+
Cooking: C+
Drama: A-
Health: A
Under Construction
Relationships with other characters
Edit
To Be Added.
When he was little, his mother signed him up for counseling to work on his people skills although they never worked so she took him out of them.
Adrian doesn't really care about having friends: he's perfectly content in the solitude of him and his art.
When he was 7, his dog died: his dog was one of the only things he felt attatched to. He still talks pretends it's there and talks to it sometimes.
Ad blocker interference detected!
Wikia is a free-to-use site that makes money from advertising. We have a modified experience for viewers using ad blockers

Wikia is not accessible if you've made further modifications. Remove the custom ad blocker rule(s) and the page will load as expected.