Aureole Russo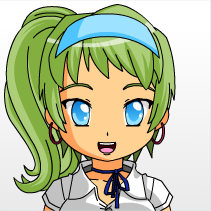 Character Info

Edit
Aureole is an Italian exchange student, and a professional guitarist. She comes from a (self-earned) wealthy family. Unlike her male counterpart she's very sporty.
Character Profile
Edit
Birthday: May 8th
Ethnicity: Italian
Body Type: Thin
Height: 5'3"
Hair Color: Yellow-Green (naturally Blonde)
Eye Color: Light Blue
Skin Tone: Tan
Dominant Hand: Left
Favorites
Edit
Interests/Hobbies: Singing, Playing Guitar, Painting, Cooking
Favorite Color: Yellow
Favorite Musician/Band: Paul McCartney, The Clovers, The Hyacinths (his band).
Favorite Type of Music: Pop, Rock
Favorite Food: Pizza
Favorite TV Show: N/A
Favorite Book: N/A
Favorite Movie: N/A
Report Card
Edit
English: B+
Math: D-
History: C+
Science: B-
Computers: C+
Gym: B
Art: A-
Music: A+
Cooking: A-
Drama: A+
Health: D
Other Appearances
Edit
Ad blocker interference detected!
Wikia is a free-to-use site that makes money from advertising. We have a modified experience for viewers using ad blockers

Wikia is not accessible if you've made further modifications. Remove the custom ad blocker rule(s) and the page will load as expected.