Alexandra "Alex" Niam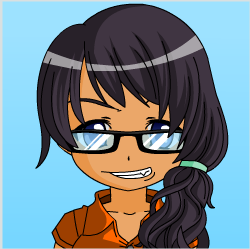 Character Info

Edit
| | |
| --- | --- |
| Side | Neutral |
| Age | 15 |
| Role | Student |
| Grade | 10th Grade |
| Friends | Lane Darus |
| Enemies | None |
| Favorite Subject | Art |
| Least-Favorite Subject | Math |
| Controlled by | PeaceOut12 |
Alexandra "Alex" Niam is a delinquent who has gone through many schools, getting expelled from each one. She pulls many jokes, and doesn't care about the chaos she creates. Her cunning mind can manipulate many others, when she chooses too. She is a new-comer in the New Millard High RP.
Character Profile
Edit
Birthday: November 20th
Ethnicity: 50% Latino, 50% Arabic
Body Type: Average
Height: 5'3
Hair Color: Black
Eye Color: Blue
Skin Tone: Tan
Dominant Hand: Right
Favorites
Edit
Interests/Hobbies: Pranking, manipulating others.
Favorite Color: Orange
Favorite Musician/Band: None
Favorite Type of Music: Punk Rock
Favorite Food: None
Favorite TV Show: N/A
Favorite Book: N/A
Favorite Movie: N/A
Report Card
Edit
English: C
Math: D+
History: B
Science: C
Computers: A
Gym: A
Art: A+
Music: A
Cooking: B
Drama: N/A
Health: N/A
Ad blocker interference detected!
Wikia is a free-to-use site that makes money from advertising. We have a modified experience for viewers using ad blockers

Wikia is not accessible if you've made further modifications. Remove the custom ad blocker rule(s) and the page will load as expected.