Bertha Altaïr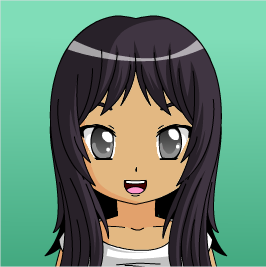 Character Info

Edit
Bertha Altaïr is Dominique's little sister. Energetic and friendly, she loves going on the computer and playing games on Facebook, as well as chat on the phone. Although her grades aren't exactly outstanding, they are still rather decent due to her strict parents. She especially excels in Math. Bertha does not attend Millard High, but she occasionally appears in scenes in the RP outside of the school.
Character Profile
Edit
Birthday: October 8th
Ethnicity: Persian/Iranian
Body Type: Skinny
Height: 4'9"
Hair Color: Black
Eye Color: Very Dark Brown
Skin Tone: Olive
Dominant Hand: Right
Favorites
Edit
Interests/Hobbies: Playing video games
Favorite Color: Black
Favorite Musician/Band: The Beatles
Favorite Type of Music: Rock
Favorite Food: Twizzlers
Favorite TV Show: N/A
Favorite Book: N/A
Favorite Movie: N/A
Report Card
Edit
English: B+
Math: A+
History: A-
Science: B+
Computers: B
Gym: B-
Art: C+
Music: B
Cooking: C+
Drama: B
Health: A
Ad blocker interference detected!
Wikia is a free-to-use site that makes money from advertising. We have a modified experience for viewers using ad blockers

Wikia is not accessible if you've made further modifications. Remove the custom ad blocker rule(s) and the page will load as expected.