Blaine Elius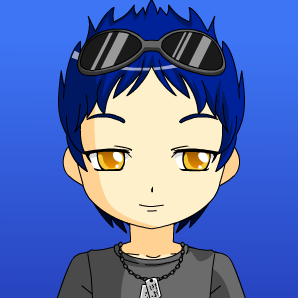 Character Info

Edit
Blaine Elius is a freshman student at Millard High. He's a little eccentric and seemingly absent-minded, but sometimes, he can be rather insightful if the circumstances call for it. He loves eating potatoes, as well as playing video games. His unusual name and blue hair often raises eyebrows. However, he claims that his name is Ukrainian. Some students suspect that his parents are secretly alien hippies. In comparison to his female counterpart, Blaine is slightly more reticent. He often feels awkward about the fact that his two closest friends, Dominique Altaïr and Samantha Parker, are girls.
Character Profile
Edit
Birthday: August 31st
Ethnicity: Chinese
Body Type: Average
Height: 5'11"
Hair Color: Navy Blue
Eye Color: Amber
Skin Tone: Light Tan
Dominant Hand: Right
Favorites
Edit
Interests/Hobbies: Playing video games, computers, writing, staring off into space, sleeping, and eating potatoes.
Favorite Color: Navy blue, black, white, gray, and brown.
Favorite Musician/Band: Port Blue, Explosions In the Sky, Thomas Bergersen, Ashtar Command, Dashboard Confessional.
Favorite Type of Music: Post-Rock, Ambient, Alternative Rock (sometimes).
Favorite Food: Potatoes, steak, scallion pancakes.
Favorite TV Show: Lost, Psych.
Favorite Book: One Flew Over the Cuckoo's Nest, the Harry Potter series, the Artemis Fowl series, etc.
Favorite Movie: The Matrix series, Inception.
Report Card
Edit
English: A+
Math: A+
History: B+
Science: B+
Computers: A+
Gym: B-
Art: A
Music: B
Cooking: B+
Drama: A-
Health: A
Other Appearances
Edit
Jackson Elius is Blaine's cousin.
Blaine always carries around a frying wok for protection.
His hair is apparently naturally blue.
Ad blocker interference detected!
Wikia is a free-to-use site that makes money from advertising. We have a modified experience for viewers using ad blockers

Wikia is not accessible if you've made further modifications. Remove the custom ad blocker rule(s) and the page will load as expected.