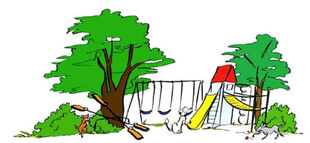 Bradbury Park is a natural reservoir located several blocks away from Millard High. The area is lush and filled with various flowers and trees, which are maintained by local community volunteers. The perimeter is surrounded by hedges and bushes, some of which are shaped into various animals and objects (the park is especially well known for its elephant-shaped bush). Nearby residents, often parents and younger kids, come visit the park on a daily basis. The park is especially active during the weekends. Snack vendors selling hot dogs, churros, ice cream and other tasty foods are a common sight. The park also has a playground, as well as its own handball court. At the center of the park rests a fountain with a statue of Abraham Lincoln presiding over it.
Often during Gym class, Millard High students run marathons through the park. Bradbury Park was also featured in one of the weekends of the RP.
Ad blocker interference detected!
Wikia is a free-to-use site that makes money from advertising. We have a modified experience for viewers using ad blockers

Wikia is not accessible if you've made further modifications. Remove the custom ad blocker rule(s) and the page will load as expected.