Clarissa Houchens-Rodriguez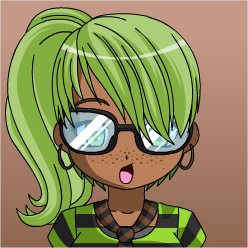 Character Info

Edit
| | |
| --- | --- |
| Side | Good |
| Age | 15 |
| Role | Pop Culture Gurl from Da Hood |
| Grade | 9th Grade |
| Friends | Jess Howard and Sandy Impertinent |
| Enemies | ? |
| Favorite Subject | Art, P.E., Music, Astrology, and English |
| Least-Favorite Subject | ? |
| Controlled by | Sumaes01 |
Clarissa Houchens-Rodriquez is a teenage girl attending Millard High in the New RP. For someone with a quite a few homosexual people in her family, she has pretty high-self esteem and isn't very sensitive. She used to attend a public school in NYC but there was a riot at the school so her parents transferred her to Millard High in the middle of Part 9. Clarissa knows a lot about baseball from her baseball fanatic parents. Clarissa also loves music and dance.
Character Profile
Edit
Birthday: February 29th (Usually celebrated on February 28th or March 1st when not a leap year)
Ethnicity: African American, English
Body Type: Average
Height: ?
Hair Color: Lime (Naturally Brown)
Eye Color: Green
Skin Tone: Dark
Dominant Hand: Right
Favorites
Edit
Interests/Hobbies: Basically any form of socializing, listening to music, and dancing
Favorite Color: Green
Favorite Musician/Band: Any
Favorite Type of Music: Pretty Much Any Kind of Music
Favorite Food: Fast Food, Hot Pretzels, and Frozen Yogurt/Ice Cream
Favorite TV Show: N/A
Favorite Book: N/A
Favorite Movie: N/A
Report Card
Edit
English: B+
Math: C-
History: B
Science: C
Computers: B
Gym: B+
Art: B
Music: B+
Cooking: C
Drama: B+
Health: C-
Relationships With Other Characters
Edit
--UnderConstruction--
Personal Quotes
Edit
--UnderConstruction--
Other Appearances
Edit
Clarissa appeared at Kat's Party before she transferred to Millard High.
Clarissa's bedtime is 11:11pm.
Ad blocker interference detected!
Wikia is a free-to-use site that makes money from advertising. We have a modified experience for viewers using ad blockers

Wikia is not accessible if you've made further modifications. Remove the custom ad blocker rule(s) and the page will load as expected.