Dameon Broke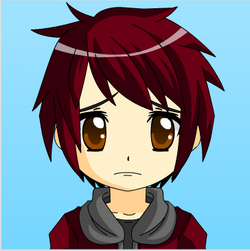 Character Info

Edit
| | |
| --- | --- |
| Side | Netural |
| Age | 15 |
| Role | Student |
| Grade | 9th Grade |
| Friends | None |
| Enemies | none |
| Favorite Subject | Art |
| Least-Favorite Subject | Gym |
| Controlled by | Rcisim319 |
Dameon Is a shy guy who is always trying to make friends hes always talking to him self and always alone. He loves to read manga and watch Anime. Hes weak and skinny..and super weird..He doesent get good grades that often either..
Character Profile
Edit
Birthday: July 22
Ethnicity: Canadian
Body Type: Skinny
Height: 5'2'
Hair Color: Red
Eye Color: Brown
Skin Tone: White
Dominant Hand: Right
Favorites
Edit
Interests/Hobbies: Tech, Manga
Favorite Color: Light blue
Favorite Musician/Band: Unknown
Favorite Type of Music: Pop
Favorite Food: Spaghetti
Favorite TV Show: HighSchool DXD
Favorite Book: N/A
Favorite Movie: N/A
Report Card
Edit
English: A+
Math: B
History: B
Science: B+
Computers: B
Gym: D
Art: A+
Music: A
Cooking: A-
Drama: C
Health: N/A
Ad blocker interference detected!
Wikia is a free-to-use site that makes money from advertising. We have a modified experience for viewers using ad blockers

Wikia is not accessible if you've made further modifications. Remove the custom ad blocker rule(s) and the page will load as expected.