Dana Toth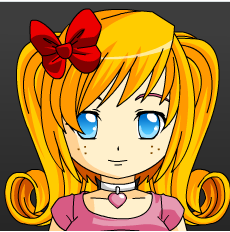 Character Info

Edit
| | |
| --- | --- |
| Side | Evil |
| Age | 16 |
| Role | Evil genius |
| Grade | 11 |
| Friends | ? |
| Enemies | Anyone on her "bad side" |
| Favorite Subject | Math and science |
| Least-Favorite Subject | Art |
| Controlled by | Icecream18 |
Dana is a student in the New Millard High RP. She is very cute and loveable (and slightly childish sounding) but is actually an evil genius with plans to take over the world.
Character Profile
Edit
Birthday: August 22
Ethnicity: Polish
Body Type: Thin
Height: 5'6
Hair Color: Blonde
Eye Color: Blue
Skin Tone: Pale
Dominant Hand: Left
Favorites
Edit
Interests/Hobbies: Inventing, looking in mirrors.
Favorite Color: Black
Favorite Musician/Band: Britney Spears
Favorite Type of Music: Hip hop
Favorite Food: Cookies
Favorite TV Show: The Biggest Loser.
Favorite Book: Harry Potter and the Deathly Hallows
Favorite Movie: Harry Potter 7 Part 2, any horror film
Report Card
Edit
English: A-
Math: A+
History: A+
Science: A+
Computers: A+
Gym: A+
Art: C
Music: A
Cooking: A-
Drama: A+
Health: B+
Under Construction
She wears braces
She has a part-time job at The Greenburg Supermarket.
She was originally a Sims 3 character and a child.
Ad blocker interference detected!
Wikia is a free-to-use site that makes money from advertising. We have a modified experience for viewers using ad blockers

Wikia is not accessible if you've made further modifications. Remove the custom ad blocker rule(s) and the page will load as expected.