Farah Puyna Ali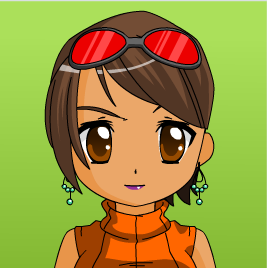 Character Info

Edit
| | |
| --- | --- |
| Side | Good/Neutral |
| Age | 17 |
| Role | The Social Activist |
| Grade | 12 |
| Friends | Muhammad Khan (cousin), Haleema Ahmed ( brief ally) |
| Enemies | N/A |
| Favorite Subject | Math |
| Least-Favorite Subject | Science |
| Controlled by | DarkQueen110 |
Farah Ali is  the snappy and pushy girl who is gives crappy dating advice and tries to help the underclassman of Millard High from the bottom of her heart ( She only helps the sane ones). She also always goes to the principal office complaining and tries to attempt to get the Principal change things in Millard High to make things better ( through the Principal ignores Farah and her complaints as he finds her annoying.). Farah is known to be a very dramatic girl and takes everything that other people say seriously. She is the cousin or step-cousin of Muhammad Khan.
Character Profile
Edit
Birthday: September 2
Ethnicity: Indian
Body Type: Average
Height: 5'6"
Hair Color: Brown (Originally black)
Eye Color: Brown
Skin Tone: Tan
Dominant Hand: Ambidextrous
Favorites
Edit
Interests/Hobbies: Soccer, shopping, getting involved social justice activism, volunteering, and hanging out with friends and family.
Favorite Color: Green
Favorite Musician/Band: Jennifer Hudson and Marina and the Diamonds
Favorite Type of Music: R&B and Pop
Favorite Food: Broccoli and Cheese
Favorite TV Show: None
Favorite Book: The Time magazines
Favorite Movie: Just go with it
Report Card
Edit
English: B-
Math: A+
History: B
Science: B-
Computers: B+
Gym: A
Art: B
Music: B-
Cooking: A
Drama: B
Health: B+
Farah has two younger brothers and a step-sister: Cole, Nigel , and Anavi Ali. Anavi goes to Millard Middle School and is an 8th grader.
Is allergic to bananas.
Used to be on the Millard High Soccer Team until Millard High cut the funding for it around her junior year.
Wants to be a doctor one day and aspires to go to medical school.
Farah loves to do volunteering and sometimes goes to library to read to young children. Other times; she gets involved in social justice causes and volunteer for some non-profits throughout the community.
While she considers herself to be a dating guru, she herself is horrible at relationships ( her relationships all ended based on her own foolish actions) and no one qualified to give dating advice.
Ad blocker interference detected!
Wikia is a free-to-use site that makes money from advertising. We have a modified experience for viewers using ad blockers

Wikia is not accessible if you've made further modifications. Remove the custom ad blocker rule(s) and the page will load as expected.