Garrett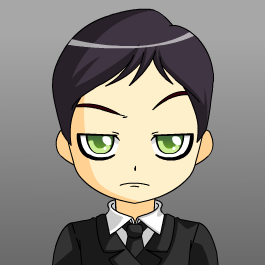 Character Info

Edit
| | |
| --- | --- |
| Side | Evil |
| Age | 14 |
| Role | Student |
| Grade | 9th Grade |
| Friends | Dominick Altaïr |
| Enemies | ? |
| Favorite Subject | All |
| Least-Favorite Subject | None |
| Controlled by | Gold710 |
Garrett is definitely dressed for success, with a high IQ level and GPA to back it up. He always manages to finish his classwork and homework a good 20 minutes before the period bell rings. Every time Garrett moves to a new school (which is all the time), he gets on the teachers', staffs members', and principal's good side. But, beneath all this, he is actually a real bully to all the kids, especially to kids older than him and ones with lower grades than him. Describe them as "neanderthals" who probably shouldn't be on the face of the earth if they can't even solve a simple (well, simple for Garrett) math problem. Fortunately for Garrett, none of the teachers at the schools he's gone to have ever found out about this.
Character Profile
Edit
Birthday: October 17th
Ethnicity: English
Body Type: Average
Height: 5'9"
Hair Color: Black
Eye Color: Emerald
Skin Tone: Tan
Dominant Hand: Left
Favorites
Edit
Interests/Hobbies: Studying, coming up with foolproof plans, traveling, and occasionally listening to classical music.
Favorite Color: Red
Favorite Musician/Band: Mozart
Favorite Type of Music: Classical
Favorite Food: Soup
Favorite TV Show: N/A
Favorite Book: N/A
Favorite Movie: N/A
Report Card
Edit
English: A
Math: A+
History: A+
Science: A+
Computers: A
Gym: A
Art: A+
Music: A+
Cooking: A-
Drama: A-
Health: N/A
Ad blocker interference detected!
Wikia is a free-to-use site that makes money from advertising. We have a modified experience for viewers using ad blockers

Wikia is not accessible if you've made further modifications. Remove the custom ad blocker rule(s) and the page will load as expected.