Helena the Hag Witch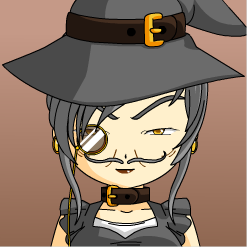 Character Info

Edit
| | |
| --- | --- |
| Age | 5,000 |
| Role | Dhampir, Witch, and Receptionist |
| Friends | Helga, Dr. F, and Loren Zo & Lorenzo (don't appear in the RP) |
| Enemies | Johanna MacGee and Fatty MacGee (don't appear in the RP) |
| Controlled By | Sumaes01 |
Helena Hagwick was Helga's dhampir sister. She was the lunch lady of Millard High and planed many ways to torture students by using the wrong ingridients in her food. She and her sister were later promoted to secretary when Helena's nephew, Johannah, became the new lunch lady. She used to date various mad scientists only so she could get a hold of their chemicals and make potions with them. However, she would never even dream of dating Dr. F for the terrible things he did to her.
Helena dies in Part 20 of the New RP when she tries to steal the souls of several students during Saturday Detention. She dies when Jess swings an emergency fire axe at her head when looking for students since she knew the way out.
Ad blocker interference detected!
Wikia is a free-to-use site that makes money from advertising. We have a modified experience for viewers using ad blockers

Wikia is not accessible if you've made further modifications. Remove the custom ad blocker rule(s) and the page will load as expected.