Holli Erickson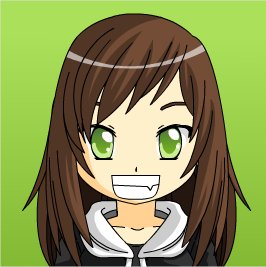 Character Info

Edit
| | |
| --- | --- |
| Side | Good |
| Age | 14 |
| Role | Student |
| Grade | 9th Grade |
| Friends | ? |
| Enemies | ? |
| Favorite Subject | ? |
| Least-Favorite Subject | ? |
| Controlled by | Holhol1235 |
Holli Erickson is a freshman currently attending Millard High. She is extrememly smart, but she lacks the common sense to back it up. Eccentric with a big imagination, she'll try to talk to just about anything to anybody, even if they don't want to talk to her. She does, however, have her own serious side. Holli is a newcomer character to the New Millard High RP.
Character Profile
Edit
Birthday: September 4th
Ethnicity: Unknown
Body Type: Is pretty scrawny and has messy hair
Height: 5'5"
Hair Color: Brown
Eye Color: Green
Skin Tone: White
Dominant Hand: Right
Favorites
Edit
Interests/Hobbies: Playing video games, reading, writing
Favorite Color: Purple
Favorite Musician/Band: Owl City, Paramore, Superchick, Relient K
Favorite Type of Music: Alternative Rock
Favorite Food: Lasagna
Favorite TV Show: The Melancholy of Haruhi Suzumiya
Favorite Book: The Hunger Games
Favorite Movie: Titanic
Report Card
Edit
English: A
Math: A
History: A
Science: A
Computers: A
Gym: A
Art: A
Music: A
Cooking: A
Drama: A
Health: A
Ad blocker interference detected!
Wikia is a free-to-use site that makes money from advertising. We have a modified experience for viewers using ad blockers

Wikia is not accessible if you've made further modifications. Remove the custom ad blocker rule(s) and the page will load as expected.