Jackson Starly Elius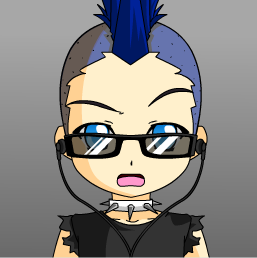 Character Info

Edit
Jackson Starly Elius is a skater and successful musician, being a part of two popular bands, Landshark and Killing Rhonda Usually laidback in attitude, he never quite cares much for criticism, though certain things he will take to heart. He describes himself as having a "fuck-you attitude." His carelessness carries on in his music, seeing as he rarely writes for either band. He sleeps often and is attracted to Kate Payne.
Character Profile
Edit
Birthday: October 13th.
Ethnicity: British, Puerto-Rican, Chinese.
Body Type: Skinny
Height: 5'3"
Hair Color: Blue-violet (naturally blonde)
Eye Color: Light Blue
Skin Tone: Light Tan
Dominant Hand: Left, but plays guitar right
Favorites
Edit
Interests/Hobbies: Listening to/playing music, skateboarding, video games, watching movies, hanging out with her band, ice-skating, horror genre, sleeping, smoking
Favorite Color: Purple, blue, black
Favorite Musician/Band: Misfits, Alice Cooper, Possessed, Death, Alien Sex Fiend, Municipal Waste, King Diamond, Rob Zombie, Marilyn Manson
Favorite Type of Music: Death metal, shock rock, thrash, horrorpunk
Favorite Food: Scones
Favorite TV Show: That 70's Show
Favorite Book: Pride and Prejudice
Favorite Movie: Chicago, Psycho, Rear Window, Rocky Horror Picture Show
Report Card
Edit
English: B
Math: C
History: D
Science: B
Computers: B
Gym: D
Art: B
Music: A
Cooking: D
Drama: A
Health: B
Jackson's favorite song is "She's a Killer" by Alien Sex Fiend.
Blaine Elius is Jackson's cousin.
Jackson limits himself to playing war-related video games, because he "likes to blow stuff up." His favorite series is Call of Duty.
He secretly loves Show Tunes.
It seems that Jackson hates fourth-wall breaking.
He briefly dated the front-woman of Killing Rhonda, Nico Rain, but her heroin addiction became overwhelming for him.
Ad blocker interference detected!
Wikia is a free-to-use site that makes money from advertising. We have a modified experience for viewers using ad blockers

Wikia is not accessible if you've made further modifications. Remove the custom ad blocker rule(s) and the page will load as expected.