Kyūketsuki "Kyet" Utsukushī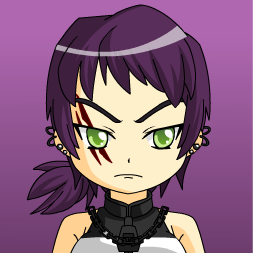 Character Info

Edit
| | |
| --- | --- |
| Side | Evil |
| Age | 15 |
| Role | Student |
| Grade | 9th Grade |
| Friends | None |
| Enemies | Iona |
| Favorite Subject | Science & Math (Loves to see everybody getting tortured by Dr. F and Morcubus) |
| Least-Favorite Subject | Gym |
| Controlled by | Iona123 |

Kyūketsuki Utsukushī, better known as Kyet, is the horrible, mean, evil twin sister of Ai. She is the elder of the two by 10 minutes. She has a huge hatred of Iona, but only Iona herself knows of this.
Kyūketsuki tries to make herself as different from her twin as she can, going as far as to take a knife and scar her face. (Also, because she thinks it makes her look slightly more frightening.)
She is also enemies with Darren Wilson, because during Valentine's Day he put a spell on her to make her fall in love with him. He often teases her about it, making her furious.
Kyūketsuki is a new character to the New Millard High RP.
Character Profile
Edit
Birthday: September 19th
Ethnicity: Japanese & American
Body Type: Skinny
Height: 5' 5"
Hair Color: Dark Purple
Eye Color: Light green
Skin Tone: Light Tan
Dominant Hand: Left
Favorites
Edit
Interests/Hobbies: Torturing other people, being horrible to Iona, and trying to look different from her twin
Favorite Color: Purple
Favorite Musician/Band: One Direction
Favorite Type of Music: Pop
Favorite Food: Sushi
Favorite TV Show: Coronation Street, EastEnders
Favorite Book: Twilight
Favorite Movie: Also Twilight
Report Card
Edit
English: D
Math: A
History: D-
Science: A
Computers: F
Gym: F
Art: D
Music: D+
Cooking: D-
Drama: C-
Health: F
Other Appearances
Edit
Kyūketsuki's surname is Japanese for "Beautiful", however Kyūketsuki is not actually aware of that.
Kyūketsuki is the only member of her family who cannot speak Japanese.
Ad blocker interference detected!
Wikia is a free-to-use site that makes money from advertising. We have a modified experience for viewers using ad blockers

Wikia is not accessible if you've made further modifications. Remove the custom ad blocker rule(s) and the page will load as expected.