Leslie 'Lessy' Boone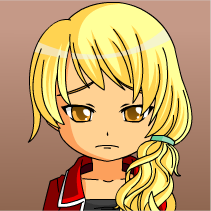 Character Info

Edit
Leslie is an awkward young girl. She's not really good with words, but wishes she could just be considered normal. Unlike her male counterpart, she's not quite as athletic, and isn't as tired as Leslie usually is.
Character Profile
Edit
Birthday: February 4th
Ethnicity: Quarter French, Quarter Puerto-Rican
Body Type: Normal, Busty
Height: 6'3"
Hair Color: Golden-Blonde
Eye Color: Brown
Skin Tone: Tan
Dominant Hand: Right
Favorites
Edit
Interests/Hobbies: Playing Sports, Reading, Singing.
Favorite Color: Red
Favorite Musician/Band: Elvis Presley
Favorite Type of Music: Country
Favorite Food: Ham Sandwiches
Favorite TV Show: N/A
Favorite Book: N/A
Favorite Movie: N/A
Report Card
Edit
English: D+
Math: C-
History: A-
Science: C-
Computers: F-
Gym: D-
Art: C+
Music: B+
Cooking: C-
Drama: C-
Health: D
Other Appearances
Edit
Ad blocker interference detected!
Wikia is a free-to-use site that makes money from advertising. We have a modified experience for viewers using ad blockers

Wikia is not accessible if you've made further modifications. Remove the custom ad blocker rule(s) and the page will load as expected.