Madeline Seagraab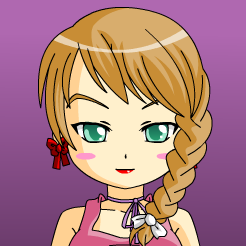 Character Info

Edit
| | |
| --- | --- |
| Side | Neutral |
| Age | 16 |
| Role | Typical Teen Girl |
| Grade | 10th Grade |
| Friends | Linda Payne |
| Enemies | Everyone else, especially Ame Cull and Dolores Grimes |
| Favorite Subject | Any class she can use her phone to cheat |
| Least-Favorite Subject | Any class she can't use her phone to cheat |
| Controlled by | Sumaes01 |
Madeline Seagraab is your typical teenage girl. She's always texting her friends from the private school she got kicked out of. She got kicked out because she was failing because of her always texting during class. She can afford all the new phones because her parents are rich, explaining why she went to a private school. However, she is against the iPhone 4S because she "doesn't want to waster her voice" and people will hear what she's doing on her phone. She used to have a twin sister named Maddison but she ran away, so Madeline's now an only child leaving the fortune to her when her elderly step-father dies.
Character Profile
Edit
Birthday: September 30th
Ethnicity: French, British, Italian
Body Type: Curvy
Height: ?
Hair Color: Sandy Blond
Eye Color: Cyan
Skin Tone: Somewhat Tan
Dominant Hand: Right
Favorites
Edit
Interests/Hobbies: Texting, Going on Facebook/Instagram/Twitter, hanging out with her friends
Favorite Color: Cyan
Favorite Musician/Band: Nicki Minaj, Rhinna, LMFAO
Favorite Type of Music: Pop
Favorite Food: Crepes
Favorite TV Show: Pretty Little Liars, Gossip Girl
Favorite Book: "Wait, people still read?"
Favorite Movie: Arhur
Report Card
Edit
English: D
Math: A
History: A
Science: D
Computers: D
Gym: B
Art: D
Music: D
Cooking: D
Drama: D
Health: A
Relations With Other Characters
Edit
Linda Payne
Edit
Dolores Grimes
Edit
-Under Construction-
Personal Quotes
Edit
"Why would I? You have to talk into it, and I'm not wasting my voice box." [referring to the iPhone 4S]
"(Awk-ward...)"
"Madison was my sister, I'm Madeline. You weren't supposed to bring her up around me."
Other Appearances
Edit
Madeline was originally just a non-OC sim the creator made, but she turned into an OC replacement of Mandy's old self.
Madeline actually is quite an artist but she doesn't draw enough to realize it.
She has a tumblr account, but she doesn't use it very much; she prefers Instagram.