Melvin Müller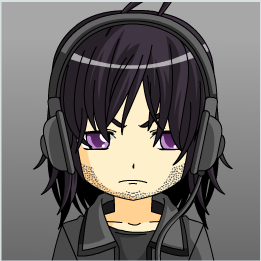 Character Info

Edit
Melvin Müller is a character appearing in the Genderbend version of Millard High: An RP Inside of An RP, he is Megan Müller's counterpart. He is a sociopathic punk dude and he doesn't like hanging a lot with the people. He's arrogant, somewhat aggressive (but doesn't like to show his strong) and sometimes even perky. If you meet him well, you may be able to see his compassionate and caring side.

Character Profile
Edit
Birthday: October 9th
Ethnicity: German, Belgian
Body Type: Wiry
Height: 5'8
Hair Color: Off Black
Eye Color: Violet
Skin Tone: Pale
Dominant Hand: Right
Favorites
Edit
Interests/Hobbies: Sleeping, listening to music, reading novels, playing the flute
Favorite Color: Gray
Favorite Musician/Band: The Ramones
Favorite Type of Music: Alternative Rock, Punk Rock
Favorite Food: Buffalo Wings
Favorite TV Show: N/A
Favorite Book: N/A
Favorite Movie: N/A
Report Card
Edit
English: A-
Math: B-
History: B+
Science: A+
Computers: A-
Gym: C+
Art: B-
Music: A+
Cooking: B-
Drama: A-
Health: B+
Relationship with other students
Edit
--Under Consrtruction--
Personal Quotes
Edit
*takes a sit besides Skye, in the window* Alright. 8 hours of my life, are about to be wasted.
*shrugs* Meh. There must be some fool as our principal, if I were you I wouldn't be that worried. *smilies dryly*
Other appearances
Edit
Melvin's hair is slight lighter than Megan's.
Ad blocker interference detected!
Wikia is a free-to-use site that makes money from advertising. We have a modified experience for viewers using ad blockers

Wikia is not accessible if you've made further modifications. Remove the custom ad blocker rule(s) and the page will load as expected.