Randy John Bean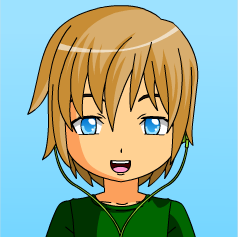 Character Info

Edit
  Randy Bean is a junior going to Millard High. He's Annabelle Bean's older brother. Well liked by most people he meets, he's a real sweetheart, almost an opposite of his harsher little sister. He has a goofy sense of humor and always likes to see the bright side of things. He has a tendency to come off as a bit of an airhead, but he's actually quite bright.
Character Profile
Edit
Birthday: January 8th
Ethnicity: Spanish
Body Type: Skinny
Height: 5'11"
Hair Color: Strawberry Blonde
Eye Color: Blue
Skin Tone: Tan
Dominant Hand: Left
Favorites
Edit
Interests/Hobbies: Playing Guitar, cards, wiffleball, skateboarding, swimming, listening to music, singing, learning new instruments
Favorite Color: Light Blue
Favorite Musician/Band: The Grateful Dead, Lynyrd Skynyrd, The Dirty Heads, The Monkees, Dashboard Confessional, Justin Timberlake, The Eagles
Favorite Type of Music: Alternative Rock
Favorite Food: Steak
Favorite TV Show: Teen Wolf
Favorite Book: The Great Gatsby
Favorite Movie: The Breakfast Club, Oh Brother Where Art Thou?, The Big Lebowski
Report Card
Edit
English: A-
Math: C
History: B
Science: B-
Computers: B
Gym: A
Art: B
Music: A+
Cooking: B-
Drama: A
Health: B+
Relationships with other characters
Edit
Annabelle Bean
Edit
Annabelle is Randy's younger sister by two years, and is the one who taught Annabelle how to play guitar. Annabelle is a bit resentful of the fact that she wouldn't have got anywhere without Randy's help, as she couldn't grasp the basics on her own. Randy is completely unaware of this, and is incredibly proud of his baby sister.
Gabe Burke
Edit
Randy and Gabe have been friends since elementary school. The met on the playground when Gabe was a 'funny little fat boy' as the older kids would put it. Randy saw Gabe doing a bunch of crazy stuff in front of the other kids, and Randy just thought he was a riot. At times, Gabe would try to get Randy to help him pull pranks, and he happily obliged, if only to be one of the 'cool kids'.
As the other kids slowly got tired of mouthy Gabe, Randy ended up being one of his only friends going into middle school. Gabe has long since made back his following, but him and Randy still maintain a good friendship.
Other Appearances
Edit
Randy, Muhammed, Gabe and sometimes Annabelle were all babysat by Julian Merlowe when they were younger.
Although Randy's primary instrument he likes to play is guitar, he is significantly better at the drums, and was under consideration to play drums for The Hyacinths.
Weighs only 112 pounds, after losing much of his weight during cancer.
Ad blocker interference detected!
Wikia is a free-to-use site that makes money from advertising. We have a modified experience for viewers using ad blockers

Wikia is not accessible if you've made further modifications. Remove the custom ad blocker rule(s) and the page will load as expected.