Sara Class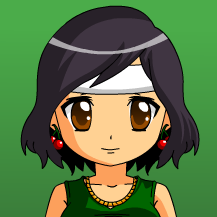 Character Info

Edit
Sara Class is a good student who has a kind heart. She always like to help her friends, but is a little shy to make some in new places. Sara is sweet and kind-hearted about 95% and 5% stubborn of the time, but in class, she can sometimes be serious with her work and wants to get a good grade. But secretly, she's half human half tree nymph, giving her abilities to control plants and heal injeries, though she never uses them for herself, even is seriouse situations. Also, she likes having fun, no matter when the fun comes in, except maybe during a test or a quiz. However, one of Sara's weaknesses is her high curiosity, and being a bit nosey at times. She returnes in Part 26.
Character ProfileEdit
Birthday: June 21st
Body Type: thin
Hair Color: Black
Eye Color: Brown
Skin Tone: Peach
Dominate Hand: Right
FavoritesEdit
Interests/Hobbies: Drawing, Acting, Flowers.
Favorite Color: Green
Favorite Type of Music: Pop
Favorite Food: Apples
Report CardEdit
English: A+
Math: A
History: A-
Science: B+
Computers: B
Gym: A-
Art: A
Music: A-
Cooking: B+
Drama: A
Health: C-
Sara secretly has Agrokinesis, the ability to control plants. However, she's more open with her abilities in Part 26.
Ad blocker interference detected!
Wikia is a free-to-use site that makes money from advertising. We have a modified experience for viewers using ad blockers

Wikia is not accessible if you've made further modifications. Remove the custom ad blocker rule(s) and the page will load as expected.