Shauqat Dawud-Nawal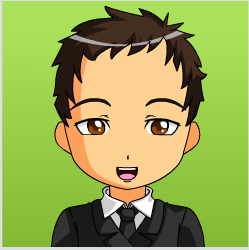 Character Info

Edit
| | |
| --- | --- |
| Side | Good |
| Age | 14 |
| Role | The Smart, Asian kid |
| Grade | 9 |
| Friends | possibly Zain Patel |
| Enemies | None |
| Favorite Subject | English |
| Least-Favorite Subject | Cooking |
| Controlled by | Mayor Zain |

Shauqat Dawud-Nawal is a student from Canada, but with an Indian background. Instead of having a Canadian accent, he has an Asian-Indian one. He tries to make friends and is always ignored. He seems to try to convince people to be his friend, but he's constantly ignored. Shauqat seems to develop a love-interest in Anita in Part 4, dragging away Anita's feelings for Dominick. His family own a part of Florida (Palm Beach) and he lives in a 4-storey mansion in Miami. Despite being rich, he is very silent, yet kind when he talks and often uses a soft voice.
Character Profile
Edit
Birthday: 14th March
Ethnicity: Arabian, Indian
Body Type: Average
Height: 5'8"
Hair Color: Brown
Eye Color: Brown
Skin Tone: Tan
Dominant Hand: Right
Favorites
Edit
Interests/Hobbies: Reading and Studying and Athletics
Favorite Color: Blue
Favorite Musician/Band: Black Eyed Peas
Favorite Type of Music: Hip-Hop
Favorite Food: Dab and Peas
Favorite TV Show: N/A
Favorite Book: N/A
Favorite Movie: N/A
Report Card
Edit
English: A+
Math: A+
History: A+
Science: B
Computers: A+
Gym: A+
Art: A
Music: A+
Cooking: C
Drama: N/A
Health: N/A
Ad blocker interference detected!
Wikia is a free-to-use site that makes money from advertising. We have a modified experience for viewers using ad blockers

Wikia is not accessible if you've made further modifications. Remove the custom ad blocker rule(s) and the page will load as expected.