Shane Hammond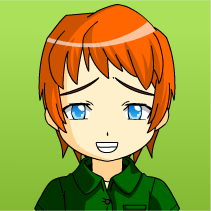 Character Info

Edit
Shane is a shy boy who often feels bad if he thinks he's done something wrong, which is almost all the time. He's Sheana's younger twin brother. Unlike his female counterpart, he's a little more sporty, not quite good at Art and sometimes wears glasses.
Character Profile
Edit
Birthday: June 14th
Ethnicity: Irish
Body Type: Average
Height: 5'10"
Hair Color: Copper
Eye Color: Blue
Skin Tone: Fair
Dominant Hand: Right
Favorites
Edit
Interests/Hobbies: Writing, Reading, Goofing around with his cousins.
Favorite Color: Green
Favorite Musician/Band: The Beatles
Favorite Type of Music: Alternative, Classic Rock
Favorite Food: Chicken Pot Pie
Favorite TV Show: N/A
Favorite Book: N/A
Favorite Movie: N/A
Report Card
Edit
English: A-
Math: D+
History: A-
Science: B-
Computers: C+
Gym: B
Art: F
Music: B+
Cooking: B
Drama: C+
Health: B
Other Appearances
Edit
Ad blocker interference detected!
Wikia is a free-to-use site that makes money from advertising. We have a modified experience for viewers using ad blockers

Wikia is not accessible if you've made further modifications. Remove the custom ad blocker rule(s) and the page will load as expected.