Skye Skyler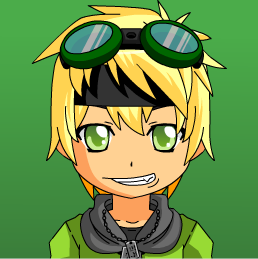 Character Info

Edit
Clarence "Skye" Skyler is a character appearing on the Genderbent version of Millard High: An RP Inside of An RP, he is Sky Skyler's counterpart. He is a very outgoing, yet competitive guy. He can be a bit rude, vain and a snob for some people, but he also is nice and innocent. He's a sport all-star and desires to became a Sea Diver in a future, he also likes skateboarding, basketball and dodgeball. At difference from his counterpart, Skye shows to be more worried about his height and that people can label him. Aswell, he can be a bit shallow-minded.
Character Profile
Edit
Birthday: December 15th
Ethnicity: Mexican American
Body Type: Fit
Height: 5'2
Hair Color: Dirty Blond
Eye Color: Green
Skin Tone: Light intermediate
Dominant Hand: Right
Favorites
Edit
Interests/Hobbies: Skateboarding, playing videogames, admiring himself
Favorite Color: Lime
Favorite Musician/Band: 3OH!3, Breathe Carolina, Attack Attack!
Favorite Type of Music: Electronica, Alternative Rock
Favorite Food: Sushi
Favorite TV Show: Just watches sports events, such the X Games
Favorite Book: Doesn't read
Favorite Movie: More Than a Game, Hurricane Season
Report Card
Edit
English: B+
Math: C+
History: B-
Science: A-
Computers: B+
Gym: A+
Art: A+
Music: C-
Cooking: B+
Drama: A-
Health: B+
Personal Quotes
Edit
--Under Construction--
Relationship with other characters
Edit
--Under Construction--
At difference from Sky, Skye doesn't hates his real name at all.
Meanwhile Sky got her nickname by the first three letters of her Last Name (Skyler), it's unknow why Skye added an "e " to him.
Other Appearances
Edit
Ad blocker interference detected!
Wikia is a free-to-use site that makes money from advertising. We have a modified experience for viewers using ad blockers

Wikia is not accessible if you've made further modifications. Remove the custom ad blocker rule(s) and the page will load as expected.