Trey Benjamin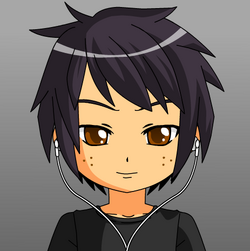 Character Info

Edit
| | |
| --- | --- |
| Side | Neutral |
| Age | 14 |
| Role | Student |
| Grade | 9th Grade |
| Friends | ? |
| Enemies | ? |
| Favorite Subject | Math |
| Least-Favorite Subject | Art |
| Controlled by | PixelPerfect |
Trey Benjamin is a freshman currently attending Millard High. He loves to listen to music, and loves rock. He is very studious and creative, but he likes to pull pranks on teachers and students at times. He is good at arguing. Trey is a newcomer character to the New Millard High RP.
Character Profile
Edit
Birthday: August 31st
Ethnicity: 50% Spanish, 30% Irish, 20% German
Body Type: Average
Height: 5'5"
Hair Color: Black
Eye Color: Brown
Skin Tone: Tan
Dominant Hand: Right
Favorites
Edit
Interests/Hobbies: Playing the Sims, Crabbing, Fishing and Creating Graphics
Favorite Color: Black
Favorite Musician/Band: Linkin Park, 3 Days Grace, Rise Against
Favorite Type of Music: Alternative Rock & Metal
Favorite Food: Steak
Favorite TV Show: N/A
Favorite Book: N/A
Favorite Movie: N/A
Report Card
Edit
English: A+
Math: A-
History: A
Science: A
Computers: A+
Gym: A
Art: B-
Music: A
Cooking: A-
Drama: B
Health: N/A
Ad blocker interference detected!
Wikia is a free-to-use site that makes money from advertising. We have a modified experience for viewers using ad blockers

Wikia is not accessible if you've made further modifications. Remove the custom ad blocker rule(s) and the page will load as expected.