Uh...well, I've been playing Sims 3 here and there lately, out of boredom. Mostly, I've been doing a bunch of skill building and skill challenges, as well as getting my Sims to achieve their lifetime wishes (honestly, that's all I really do on TS3, besides editing houses or creating Sims...then I get bored until I play it again months later

). I've also taken a bunch of random screenshots. It was kinda out of place for me to randomly post screenshots on other people's blogs, so I decided I'd make my own blog specially for screenshots.
If you want, you can also post your own Sims screenshots on here.
Just to start, a random screenshot of the different versions of my Sim: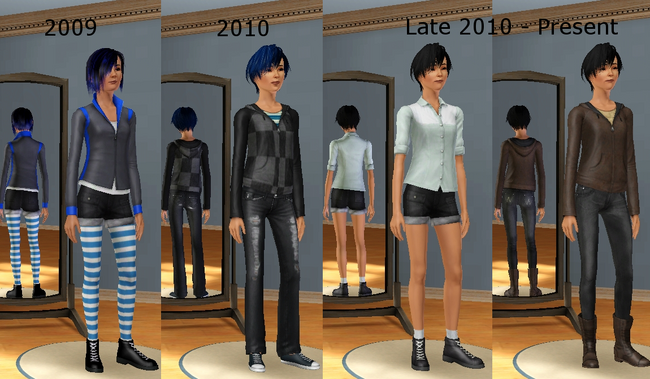 When I first got the game (about a month after the game came out), there wasn't any CC around, not to mention I was fashionably inept.

On an unrelated note, this is quite possibly the best song in existence.

Ad blocker interference detected!
Wikia is a free-to-use site that makes money from advertising. We have a modified experience for viewers using ad blockers

Wikia is not accessible if you've made further modifications. Remove the custom ad blocker rule(s) and the page will load as expected.