Vikki Caliente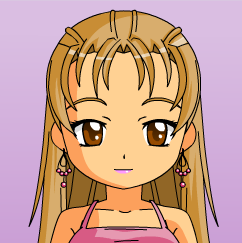 Character Info

Edit
| | |
| --- | --- |
| Side | Neutral |
| Age | 17 |
| Role | "Popular" girl |
| Grade | 12 |
| Friends | None |
| Enemies | Anyone who isn't on her friends list, especially Natasha Cummings. |
| Favorite Subject | Art |
| Least-Favorite Subject | Most classes |
| Controlled by | Icecream18 |

Vikki Caliente appears only in The New RP. In her old school, she was known as the "pretty, popular girl" whom is also rather stuck-up and egotistical. She can, however, be "nice" to her "friends". As her family moves a lot, they moved out of Greenburg and into a new town with a new school, causing her to transfer.
Character Profile
Edit
Birthday: 26 December
Ethnicity: Greek, French, German, Egyptian, Brazilian, Polish.
Body Type: Thin
Height: 5'5
Hair Color: Light Brown
Eye Color: Brown
Skin Tone: White
Dominant Hand: Right
Favorites
Edit
Interests/Hobbies: Dancing, looking at outfits, shopping, texting, comparing clothing, putting on makeup.
Favorite Color: Lavender
Favorite Musician/Band: Nicki Minaj, Katy Perry, Taylor Swift, Eminem.
Favorite Type of Music: Hip Hop
Favorite Food: Fruit Salads
Favorite TV Show: Degrassi
Favorite Book: Doesn't read
Favorite Movie: Pitch Perfect, Twilight.
Report Card
Edit
English: D
Math: A+ (uses calculator app)
History: A- (Googles answers)
Science: C+
Computers: B-
Gym: B-
Art: A+
Music: A
Cooking: B
Drama: A+
Health: D
She enjoys chewing gum.
She loves watching Vampire Movies
Her phone case is purple.
Ad blocker interference detected!
Wikia is a free-to-use site that makes money from advertising. We have a modified experience for viewers using ad blockers

Wikia is not accessible if you've made further modifications. Remove the custom ad blocker rule(s) and the page will load as expected.